Join Us At
GovCon Rockstars
MONTHLY INDOOR ROCK CLIMBING SOCIAL
For GovCons & Federal Employees
Thursdays 5:45 – 7:45

at Sportrock Alexandria VA
Indoor Rock Climbing and Networking in Alexandria, VA
Federal contractors & govvies, friends & family are all welcome. Whether you want to learn the ropes, or you already love to climb, we'll help you reach new heights while you level up your GovCon game!
You're in the hands of a pro: Judy Bradt is a professional indoor rock-climbing instructor for Sportrock. Since 2007 she has taught over a thousand people to go up a wall!
Try a new way to build your Federal connections! Join us to discover (or hone) your climbing skills while you hang out with a bunch of great people!
"I love that I had the opportunity to push the limits, breaks, and challenges, and I loved the networking and meeting new people."
~ Kameke Mitchell, DoD
"I loved all the bravery of all the people who were trying something absolutely brand new. At the beginning of the night, we're going 'What the heck is that?' and by later in the evening, we're going, 'I want more climbs, I want harder climbs!' "
~ JJ Gertler, Library of Congress
"Climbing is one of my great passions, and I love to share. Come and join me and a few other people from the federal contracting community here in the DC metro area. See you there!"
~ Judy Bradt, Summit Insight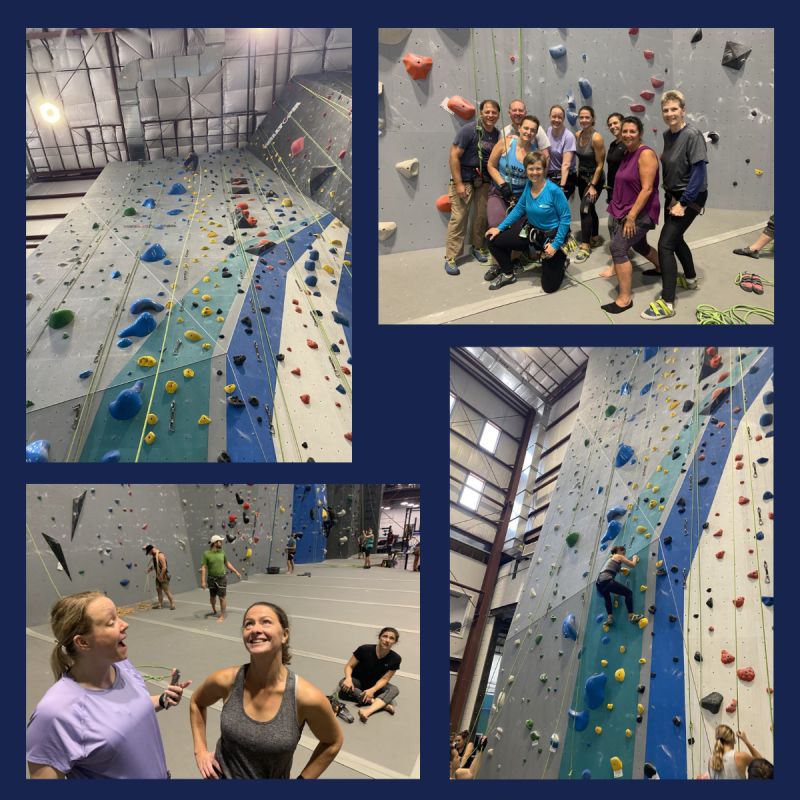 Times: We meet on the 3rd or 4th Thursday of the month from 5:45 – 7:45 pm—dates are listed below
Location: SportRock Climbing Center
Address: 5308 Eisenhower Ave. Alexandria, VA 22304
Parking: Free parking available and Metro-accessible via Van Dorn (blue line)
Register For the Next Event Now
Do I need to have climbing experience?
No experience necessary—beginners are welcome! We love to introduce newcomers to climbing, and give you all the support you need to try something new with confidence.
Who's going to help me learn the ropes?
The group is co-hosted by Judy Bradt, CEO of Summit Insight, who has also been a professional climbing instructor at Sportrock since 2007, and Anna Urman, Sportrock member and Senior Procurement Analyst at the Department of State
Can I bring my partner, friends, colleagues, kids?
Absolutely. We'd love to see you all!
What gear do I need?
You can rent everything you need at Sportrock – including climbing shoes and a harness.
I have my own gear—can I use it?
Of course. Bring your own gear and save a few bucks on rentals.
What should I wear?
Something comfortable and stretchy. Check out the pictures to see what other folks are wearing!
When you arrive, we'll have a team shirt for you!
How much does it cost?
Our GovCon Rockstars networking event itself is free! You'll pay the special reduced rate of $16, plus your gear rental as needed, to Sportrock directly when you arrive – under $30, all in. Visit the Sportrock website for the details.
Who Are GovCon Rockstars?
We are government contractors, federal employees, teaming partners, colleagues, friends, and family… and, I hope, YOU, the moment you arrive at Sportrock for your very first climb with us. For starters, we all have some kind of connection to federal contracting. Then we put our lives in each others' hands and step up to a whole new level of trust—literally! If you've got a sense of adventure, and you're ready for a whole new kind of networking, then you'll find you're in the right place.
Why We're Doing This, Really
Imagine trying something new, when the stakes are high. When someone puts their life in your hands. That's what Federal buyers are doing every time they choose a vendor. How does that happen, thousands of times a year?
GovCon is a relationship game, one that takes profound trust between people. GovCon Rockstars believe that relationships happen for those who show up, with courage and open hearts, ready and willing to meet and connect as people first and foremost. 
We are in small business and large primes, Federal civilian, State Department, DoD, professional service, IT, project managers, coaches, and we bring along our partners and kids, friends and colleagues. And we come ready to give – and get – full support from each other, every step of the way. 
Our Rockstars themselves say it all:
"I love pushing personal limits and helping others do that, too."
~ Evita Salles, Navy
"I love learning that I can do more than I think I can do. People that didn't even know me trusted me and that was amazing."
~ PJ Jackson, Positive Knowledge
"I loved gaining trust in my new pals."
 ~ Nina Shell, Greenbrier Government Services:
"I loved being able to challenge myself and push my comfort zone."
~ Lindsey Rook
"I loved getting higher than I thought I would on the wall, and meeting new people."
~ Maureen Meyer, Global Services
"I loved the absolute joy that it brought everyone in this room and it brought everybody so much closer."
~ Courtney Fairchild, Global Services
"I loved meeting a bunch of new people this time, so come out next time and meet some new people."
~ Bob Rook, LMI
"I loved meeting everyone and getting back into climbing."
~ Maha Malik, MITRE
"I loved trying new things and meeting new people."
~ Zain Malik, LMI
Thank You to Our Sponsors